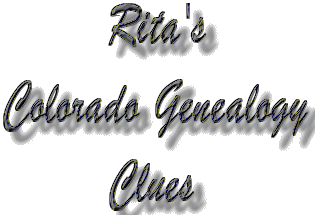 Step back in time to 1895, some 30 years after the first pioneers arrived in Colorado. Come along as I travel Denver and some of the surrounding counties and learn about the people, places and events.
My thanks to so many volunteers who over the years have presented their research in books, indexes, card files, microfilm and handwritten ledgers. The surnames are many, as in 1895 the population of the Denver area was 145,000.
Name by name and line by line I have gotten to know these folks. My interest in different sources came from wanting to know more about the people and events during this year. Each line item is a story in itself. Mine disasters, deaths of young ones from fever, the growth of a city and the scoundrels who seemed to always be in the news. It was all in the newspapers, marriage certificates, and death notices, including events outside the Denver area.
Come back often as the list continues to grow and new sources are added. Perhaps you will find that elusive ancestor or a new source to search. Maybe a few might find out what great great grandpa or great great grandma did for a living.
Included in the main surname index as well as a separate listing:
Graduates of 1895 Post Offices in Colorado 1895
Something new added to the site! We have added a photo page of surrounding area cemeteries and head stones of various people on the list as well as some we thought might be interesting. There are 2 different pages, Dial up low speed and dsl or cable. If you are using a
DIAL UP modem go here to Colorado Area Cemeteries
CABLE OR DSL go here to Colorado Area Cemeteries
New articles added for this month:
| | |
| --- | --- |
| Archer, Frank -Obituaries | Clough, John A. - News Articles |
| Collier, J. T. - Obituaries | Dale, Charles E. - Obituaries |
| DeMoss, William - Scoundrels | Hall, Elbert - Obituaries |
| Hannum, James - Scoundrels | Howard, May - News Articles |
| Hunt, D. L. - News Articles | Lewis, Flora E., (Mrs.) Obituaries |
| Manix, John L. - Scoundrels | McDonough,... - Obituaries |
| McMillian, Noble - Obituaries | Ormsby, Mary - Obituaries |
| Polk, Daniel - Obituaries | Reinert, W. F. - Obituaries |
| Sleepy Hollow Mine- News - Articles | Smith, Frederick - Scoundrels |
| Thompson, J. S. - Obituaries | Wallace, Mary E. - News Articles |
| Weile, Peter - Obituaries | Westfield, Charles - Obituaries |
Happy Hunting and thanks again for your visits...your comments are appreciated. If your comment requests a reply please include your E-Mail address.
Updated 01/02/2001


FastCounter by bCentral
Web Design by Dennis Jipping
Copyright © 1999 Colorado Clues. All rights reserved.
Revised: November 03, 2000 .