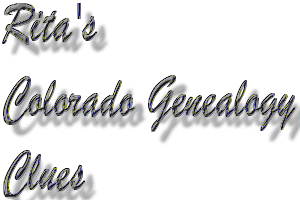 ---
Use the form below to search for any information or names you are in search of, if a hit is found click on link or links available you will have to scroll to the name or the article you are searching for. With the amount of surnames and articles it almost impossible to pin point all. All surnames and articles are alphabetical so it is best to surname search first. If you encounter any problems please notify me and I will look into this as soon as possible. Good luck and happy hunting.
---
---
Copyright © 1999 Colorado Clues. All rights reserved.
Revised: December 23, 2000 .